---
Chapter 18
College
(1929)
9191 One day, after the sewing room was cleaned, I sauntered home with my armload of school books. The afternoon sun was warm and the air smelled of spring. Although it was still February, the apricots were in bloom. Papa was anxiously waiting as I came into the house.
"Emil Graff wants to talk to you," he said.
Afraid to hope, I hurried to the store, where Mr. Graff sat me down in the shoe room.
"How would you like to clerk a few hours after school each day?" he asked.
How would I like! How would I like to not pick up chips anymore? How would I like to not be a janitor anymore? How would I like to have the moon? All of the shoe boxes on the shelves looked friendly.
"I would love it," I replied.
Briefly he explained store policy and wages then said, "Be prepared to start work on the first of March."
My feet scarcely touched ground as I flew home. Excitedly I burst through the door. "I'm going to clerk in the store," I announced. Mama smiled and Papa blinked.
How much of what happened next was coincidence, or how much was maneuvered, I wasn't certain, but the first salesman that showed up in the store after I started clerking, was from a correspondence school. It just happened that he had already visited Mr. Moody at the High School, and had been to see Papa. Well, he sold me a course in shorthand and business correspondence, along with a beloved Underwood Typewriter (rebuilt). Now I could clerk all afternoon, and go to school only one-half a day. At nights I studied. Papa dictated shorthand and timed speed tests, and my completed lessons began to fly in the mail to Chicago. The corrected ones, along with my grades, were returned to Milton Moody, the High School Principal.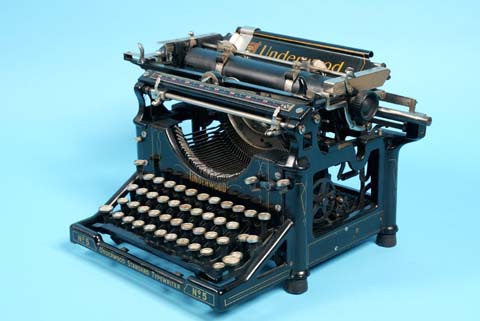 One day, Mr. Moody called me into his office. "You have been chosen to be the Valedictorian at the graduation exercises. We also need your picture for the Year Book." Year book pictures were taken the day we were at the B.A.C., so we missed out.
To make my senior picture special, I got my first beauty parlor appointment for a marcel. Most of the girls had their hair "bobbed off". Cut, that is. Papa wouldn't hear of such a thing. My hair was long, done up in braids, and wound around my ears.
"Be not the first the new to try, nor yet the last to lay the old aside,"("An Essay on Criticism" by A. Pope) Papa often recited, then he would add, "A woman's hair is her crown of glory, and it can't be, if it is cut."
With the help of Isaiah, he kept us in line by quoting, "Therefore, the Lord will smite with a scab, the crown of the head of the daughters of Zion…instead of sweet smell there shall be stink;…and instead of well set hair, baldness."(Isaiah 3:17,24) Each night as I tumbled into bed, with my braids falling across my pillow, I'd think, "Well, at least I still have 9292 my crown of glory." I didn't want to be one of the wanton creatures that fulfilled Isaiah's prophecy. Still, Papa failed to notice that we were the "last to lay the old aside".
My friends harangued me, and now that I was clerking, customers tormented me constantly with the question, "When are you going to cut your hair?" Like water dripping on a rock, it was wearing me down.
As I sat in the beauty parlor chair. Hazel Langston took one fat braid in her hand and asked,"How would you like to have your hair cut, Alice?"
Her assistant, Felma Webb, grabbed the other braid. "Oh Alice, please let us cut your hair."
I didn't believe they were serious. Those braids had been a part of me for eighteen years. Jokingly I said, "Go ahead."
With heavy shears. Hazel whacked off a braid, dangling it before me. A sickening fear swept through me. Gleefully she asked, "Do you still want your hair cut?"
"Sure," I gulped. What else could I say?
Never were two beauty operators more enthusiastic than Hazel and Felma as they worked on me together. They had so much fun they should have paid me, instead of me paying them. When the cutting and marcelling was done, they held a mirror in front of me. What a doll! I felt self-conscious looking so cute. But I didn't dare go home for dinner. I just skipped it, and went to work instead. All afternoon I was heaped with compliments. By quitting time, I felt like a blue-ribbon exhibit.
The news ran ahead of me. As I opened our front door, even before Papa looked at me, he exclaimed in disgust, "You've made a mess of yourself." Nothing more was said. Days later, I heard him confess to Joe Englestead that cut hair was neater than long.
My graduation dress was a pink, fluttery thing that sparkled with rhinestones. It gave me composure. The thoughts for my valedictorian address were triggered by a couple of poems. The first one was "Opportunity" by John James Ingalls:
OPPORTUNITY
Master of human destinies am I!
Fame, love, and fortune on my footsteps wait.
Cities and fields I walk; I penetrate
Deserts and seas remote, and passing by
Hovel and mart and palace—soon or late
I knock, unbidden, once at every gate!
If sleeping, wake—if feasting, rise before
I turn away. It is the hour of fate,
And they who follow me reach every state
Mortals desire, and conquer every foe
Save death; but those who doubt or hesitate,
Condemned to failure, penury, and woe,
Seek me in vain and uselessly implore.
I answer not, and I return no more!

This poem sounded so fatalistic, that it would scare a body to ever sleep. The second poem was also titled "Opportunity", by Walter Malone. His philosophy, I wholeheartedly accepted.
OPPORTUNITY
They do me wrong who say I come no more
When once I knock and fail to find you in;
For every day, I stand outside your door
And bid you wake, and rise to fight and win.

Wail not for precious chances passed away!
Weep not for golden ages on the wane!
Each night I burn the records of the day—
At sunrise every soul is born again!

Dost thou behold thy lost youth all aghast?
Dost reel from righteous Retribution's blow?
Then turn from blotted archives of the past
And find the future's pages white as snow.

Art thou a mourner? Rouse thee from thy spell;
Art thou a sinner? Sins may be forgiven;
Each morning gives thee wings to flee from hell,
Each night a star to guide thy feet to Heaven.

Laugh like a boy at splendors that have sped,
To vanished joys be blind and deaf and dumb;
My judgments seal the dead past with its dead,
But never bind a moment yet to come.

Though deep in mire, wring not your hands and weep;
I lend my arm to all who say "I can!"
No shame-faced outcast ever sank so deep
But yet might rise and be again a man!
I felt the exhilaration of weaving my thoughts around those of the great masters. I was a shining star with all eyes upon me. It was too bad I couldn't have stayed at the podium. But, like a meteorite crashing into the forest, I came down onto the floor where benches had been slid back for the dance.
Men from the Pine Creek road camp crowded the dance floor. The Zion tunnel was under construction at this time. Normally, every dance had its row of wallflowers, but not so this night. Every girl was popular. I was trapped. One stranger after another took me onto the floor. The crowd was my only salvation, because if I got out of step, it could be because someone else bumped into me.
That night, I realized that other things in life were as important as getting "A's" in school. I felt like a grub, and longed to be a butterfly.
Mama and Papa weren't at the graduation exercises. They never went out at nights. But in some quiet way, they managed to know what was goinq on. When I came home from work the day after graduation, I noticed the pack of cards that my talk had been written on sticking out of Papa's shirt pocket.
"What are you doing with those?" I asked.
Papa blinked back his tears of pride and grinned. "I took them to the bank for Senator Hirschi to read."
What a tribute! Papa considered Dave Hirschi highly intellectual. If he hadn't liked my talk, he wouldn't have let Dave read it.
9494 With school out, I clerked full time. The "self-service" system didn't exist. Customers asked for each item they wanted, and clerks s'curried about the store to pick them up. It was time consuming. I soon learned why the clerks detested certain customers. The only way to keep from detesting them myself was to make a project of them. Whenever the undesirable, the disagreeable and the ignorant customer came through the door, I stepped from behind the counter as though tickled to see them. Amazing! I discovered that even the grumpiest people were really quite humorous.
Once in awhile, my motives weren't rightly understood, and it brought the wrong kind of company to our home, and some angry lectures from Papa. He worried because I was gullible, naive, and too trusting.
For example; a certain road camp guy hung around the store too much, and no one liked him. He was repugnant to me, but I determined to give him the "glad to see you" routine to see if it worked. It worked. Like a boomerang! He came to our house one night, just after we had finished supper.
"My name is George," he said, shaking Papa's hand.
"My name is George too. Isom, that is. Who are you?"
"George Wickey, and I'm a member of the Church."
"What Church?"
"Baptist."
"Doesn't mean a thing to me."
"Mind if I sit?"
"Don't mind if you do."
"Your daughter Alice is a nice girl."
"Yes. Alice is a nice girl."
George and George sat and visited. They talked about the progress of the Zion tunnel and whether it was going to be a long, hot summer or not. (The summer was getting quite stuffy at this point.)
"Your daughter Alice is a nice girl," George Wickey repeated.
"Yes, Alice is a nice girl," Papa agreed.
"I came to ask if I could take her to the dance tonight."
"I don't like my daughter out in a car with a stranger."
"I'm walking. My friend will pick me up after the dance."
"Well, you've been gentleman enough to ask my consent. I'll expect you to be a gentleman and treat her right and get her home early."
Since I'd started this whole thing of being nice to Wickey, I might as well swallow this bitter pill and go with him. I went to my room and put on my pink organdy. At least he should be safe on foot. Papa's final admonition followed us as we walked out the door.
9595 Well, I thought, if we're going to the dance, we're going as fast as our feet can trot. I had no notion to linger under the stars with George.
"What's your hurry?" he asked.
"We're late. Can't you hear the music?"
"Come on. At least we can hold hands." Clutching one of mine, he slowed me down.
Just before we got to the old shoe shop, he grabbed me in his arms. When I resisted, he backed me up against Will Ruesch's fence, breathing on my neck. "Are you a gold digger?" he asked.
"Do you mean someone who goes prospecting out in the hills?" I asked, pushing him away.
"No. It's a girl who gives a guy something for money," he said, hugging me.
"No I'm not!" I struggled to get away. He tried to kiss me. I'd as soon kiss a toad. Breaking loose, I ran. There were lights and people outside the school house, so I was safe. Once inside, I squeezed through the crowd and hid. Wickey pushed through, craning his neck looking for me. As he edged in, I edged out.
Overhearing a neighbor say, "Should we run home and check on the kids?" I asked, "Can I go with you?"
"Sure thing," was the reply.
I was home earlier than expected, but Mama and Papa were as relieved as I.
"I was wrong to let you go," Papa admitted, "but there's one thing I wish you would remember. You can't be friendly to everyone. Evil men will take advantage of you." He had said this to me a hundred times before. His message was beginning to sink in.
Most of the customers in the store during the morning hours were women bringing in their butter and eggs. We paid for these in store coupons. Coupons were considered "women's money", because she was the one who tended the chickens and who churned the butter. An egg was as good as cash. An egg was a handsome reward to a child for getting his work done. Little kids came to the store daily, exchanging their one egg for a couple of sticks of candy.
In our town, everybody knew everybody else, and poked fun at each other's idiosyncrasies. One family in particular was noted for their tight-hidedness. Of the man it was said that he had just got his horses used to not eating, when they up and died, and that he put green goggles on his cows so they'd think straw was hay. And each morning, he gave his kids a nickel if they'd drink a quart of water before breakfast, and then charge them a nickel for their dinner. When he took his wife out for an automobile ride, she had to lean forward to save gas, and the family had to jump the fence, to save the gate hinges. The fact is, they were very good people and everyone liked them, but the man was more frugal than normal.
9696 On his wife's birthday, he came to the store with a fist full of her egg money. "Shoot," he said, "I've got to get Mariah1 a present. I want to see your enamelware."
Enamelware consisted of cheap metal pots, pans and dishes, glazed with a gray, blue or white porcelain-like finish that chipped like glass. The chipped places rusted. Enamel dishes were used only at the sheep herd, in ranch houses, and for camping out, but not at the dinner table at home.
"I'll take six plates and six cups. Mariah is going to be mad as a hornet, but shoot! We can't afford the way our kids are breaking dishes."
How touching, I thought as I wrapped them, for him to use her egg money, to buy her a gift that was going to make her mad. My mind conjured up a lively scene of Mariah throwing the dishes at him until they were all chipped, and then the family eating off the hideous things the rest of their days.
Another practical man bought a copper boiler for his wife's birthday. A copper boiler was an oval-shaped container made to fit over two holes on the wood stove, to boil white clothes in on wash day. Lifting wet sheets out of the boiling lye water with a stick was back breaking. A copper boiler was a symbol of drudgery. A very sentimental birthday gift. But it tickled me when this man's wife bought him an axe for his birthday so he could keep the wood chopped so she could keep her boiler bubbling.
Only local, homemade butter was sold in the store. After the butter was churned, the excess buttermilk was worked out with a wooden paddle. The butter was then pressed into a mold, then unmolded onto wet parchment that was labled with the woman's name, and neatly wrapped. When customers sorted through the stacks of butter in the store showcase, it was like judgment day. Each woman whose name appeared on the wrapper was discussed, whether her kitchen was clean or not and whether she tied a bandana over her hair when she churned. Some women wore crisp white aprons over their housedresses when they delivered their butter. They advertised their cleanliness, demanded five-cents a pound more for their butter, and got it.
Salley Jones1 had the reputation of accumulating her cream until it reeked. Once a month she'd bring fifteen pounds of butter to the store in her big water bucket. Before the days of refrigeration, that was a lot. Local customers wouldn't touch it, so naturally, we filled sheepherder orders with it. We got a note from one guy out on the Arizona Strip, saying that the butter we sent him was so strong he had to tie a rope around it to keep it in camp.
Ether Wood hauled freight for Mr. Graff. Once when he took his brother Andrew with him, there was only half enough butter in their grub box to last for the trip. So Ether told Andrew that Salley Jones had made the butter. Andrew wouldn't touch it, and Ether enjoyed Myra Lemmon's good sweet cream butter for the entire trip.
Roving gypsy bands occasionally came through Hurricane in the summertime. People called them dirty horse-traders and thieves, but to me they were venturesome, carefree and happy. The women, in their bright scarves and swirling skirts, were beautiful.
9797 It was a midday in June. Walter Eagar, Amelia and Jessie Webb, three of the clerks, had gone home for lunch, when the gypsies arrived. Mr. Graff and Ruby Ruesch were in the back, marking a shipment of new shoes. I was alone in the front part of the store when I saw the gypsies scatter. A dark-eyed girl came swiftly through the door and behind the counter where I was dusting.
"If you'll cross my palm with silver, I'll tell your fortune."
"I'm sorry, but I can't do that," I said uneasily. I knew the red folds of silk that covered her were for more than color. I backed away, but she moved with me, her eyes riveted on mine as she kept talking. She was young, and very pretty. I was both fascinated and frightened. It seemed silly to yell for help, but I wished someone—just anyone, would come into the store.
The girl backed me past a small showcase on top of the counter that had the glass door slid open. Our cash register, a tall, fancy, chrome bedecked four-drawer one, was under repair, and all of the drawers were conspicuously open and empty. In a shoe box, along with the cosmetics in the open showcase, was the currency, silver and checks.
"Cross my palm with just one piece of silver. There are wonderful things in store for you," she said, her face upturned to mine.
Just then, Mr. Graff materialized, and the gypsy fled. Reaching for the shoe box, he found the currency gone. He ran out the front door just in time to see the other gypsies help the girl into the back of their ramshackle truck, which went wheezing down the road. Quickly, he summoned Tom Isom, the town marshal, and a posse of men were gathered, who followed in hot pursuit.
The only way out of town was the road going down around the Sulphur Springs. It was not a swift road for a fleeing band in a rattle-trap truck. The posse blocked their way before they crossed the river. In their swift little visit, the gypsies had looted every business house in town. The marshal and his men relieved them of their merchandise and money, and ordered them never to set foot in Hurricane again.
In a council with his clerks, Mr. Graff firmly told us to shout alarm if ever another gypsy came into the store. But the band that fled from Hurricane that day seemed to be the last of a vanishing race.
One day Mr. Graff said, "Alice, why don't you take my car and run after the mail?"
I had just finished cutting off a slab of bacon for John Sanders.
"I think I'll go with you," John said. "I want to go to Will Sullivan's, so while you're out, maybe you can drop me off at his place."
Neither Mr. Graff nor John knew I had only been behind a steering wheel once. I got into the little sports roadster, and John settled down beside me. Smartly turning around in the back yard, without knocking over the trash can, I came out onto the road. While I tried to recall what Orval Judd had said about stopping the car, the Post Office appeared. Driving alongside, I knocked out a fence post, and the wire mesh stopped us.
John was out of the car like he had been rocket-propelled. "Never mind about taking me to Will's," he said, "I'll walk." He didn't even call for his mail.
9898 I might as well have taken him to Sullivan's. I drove back to the store perfectly fine.
Jessie was more experienced at clerking than the rest of us, except for Walter. She knew everything from the size of horse-shoe nails, to how much cloth it took to make a dress for a six year old. When women asked for ideas for making a dress, without hesitation, she'd assemble material on the counter.
"I think this cloth would be pretty, with these little buttons down here, and ribbon and lace around here," etc., designing the dress right before their eyes. They always bought what she put before them.
One day, when I answered the phone, it was Emma Bradshaw. "Alice," she said, "I want to tie off a comforter this afternoon. Ira is on his way to the store now. Please pick out ten yards of your prettiest cretonne, and send it home with him."
"Jessie," I called, hanging up the phone, "your Aunt Emma wants you to pick out ten yards of cretonne for her."
Mr. Graff overheard me. With a hand on each of my shoulders, he asked, "Who did Mrs. Bradshaw ask to pick out that cloth?"
Ducking my head, I replied, "Me."
"All right. Now go and pick it out."
"But I don't know what she will think is pretty."
"Go right now and look at that cretonne. Decide for yourself which is the prettiest piece, and cut ten yards off from it. Jessie's choice isn't one bit better than yours."
I'd never thought of that. Amazed, I looked at the bolts of flowered material. They were all pretty, but one piece in particular was much the prettiest. Taking it down, I measured it off, and just got it wrapped as Ira came in the door.
A short while later, the phone rang again and I answered it. "Alice, this is Emma. I want to thank you for your picking out such pretty material. It is exactly what I wanted." How pleased I was!
Mr. Graff's home was in LaVerkin, so Walter kept an extra set of keys to the store in case of emergencies. The store carried patent medicines, and every once in awhile, he had to open up in the night for a child choked up with croup, or for some other ailment. Going into the store at night was spooky, because the place was dark.
It was just my luck, the one time Walter left the keys with me, I had to do a lot worse than go after medicine. Mr. Lewis, who was renting the two north rooms in our house, died. The sad weeping of his children, who were at his bedside, awoke me. The family realized they had better travel as far as they could in the cool of the night, to get him to his old home town for the funeral, so they got me up to go after his casket.
If ever I pretended to be brave, it was then. To go into the far end of the dungeon where the caskets were, was one thing I never did. Just the sight of the dusty, pine boxes, conjured up in my mind my childhood imaginings of the ten caskets of beans in our cellar.
9999 Two of Mr. Lewis's sons went with me, and with a dim flashlight, I found the light switch inside the back door. The wooden steps creaked as we went into the basement. When I put my hand out to steady myself, the cement wall was damp and cold. I had seen the black widows suspended above their egg balls on the beams overhead, and imagined spider webs entangling me as I descended. In the dim light, at the far end of the basement, the men selected the casket they needed, and we found help in getting it out. This incident was merely a dress rehearsal for the one that was to follow.
Soon after that, one of our neighbors died. In those days, deceased loved ones were not rushed to a mortuary, but were "laid out" by the Relief Society sisters. Ice was brought from the meat market and packed in fruit jars all around our neighbor to keep her cool until the funeral. She had been washed and dressed in a pretty white dress, and her hair done up in a bun on top of her head. I was asked to sit with her from ten at night, until two a.m.
"Why sit up with someone who is dead?" I asked. "Mattie1 isn't going anywhere is she?"
"There have been cases when people were only thought to be dead. If they gasp for breath, they may need help." Horrified, I looked at the complacent sister who supplied this information. "Then of course, we have to watch for cats," she continued. I groaned. "You don't have to worry. You won't be alone. Her grandson Elmer will sit with you."
Now that was just great! Elmer1 was one of the ruffians with the corncob pipe, that had beat up on our sixth grade teacher, and he was always soused.
When I talked to Mama about sitting with the dead, she said, "It is simply a nice and considerate thing to do. The family will rest better knowing you are there."
Mattie's bedroom windows were open, and the sheer curtains softly billowed out into the room. She lay very still under a white sheet, and an electric fan droned, vacillating back and forth, at the head of the bed The breeze from the fan kept lifting the sheet from her hair, until finally a lock, the size and shape of the tip of a cat's tail, unwound. It waved back and forth, back and forth with the fan. I watched, until I could stand it no longer. I got up and went out on the front porch, where Elmer had passed out, dead drunk, in the casket box. Every time he moved, his heavy shoes clanked against the pine boards with a hollow sound.
Hot as the night was, I was getting chilled from the melancholy drone of the fan, and Elmer's mumbling, groaning and clattering in the casket box. Suddenly a terrible yowling and shattering of glass brought me to my feet in terror.
"Elmer, Elmer, wake up," I cried hysterically, shaking him.
Groggily he arose. "Whassa matter?"
"Something has happened in there," I choked, pointing inside.
I didn't move until he went with me. Switching on the basement lights, we saw broken bits of fruit jars strewn down the cement steps. They ha" been knocked from the ledge above the steps, where they had been stored.
100100 "Blithering cats," Elmer grunted.
Where they came from, or where they went to, I didn't know. Wild horses couldn't have dragged me into the basement to find out. I was ralieved and happy when two women came to replace me, and I could go home.
Since I was practically the only one to occupy the southwest bedroom upstairs, I had free rein in fixing it up. On the floor was a hooked rug of my own, original design, and I had appliqued my pillow cases. The curtains were some old lace ones, but they looked pretty, freshened up. Some of the pictures on the walls were Cloverine salve premiums, and others were slick, colored magazine pages. Neither Mama nor Papa ever looked in my room to say, "How pretty." and everyone else was equally oblivious. I was the lone admirer. It was here that I spent my evenings after work, cramming on my shorthand and business correspondence, to prepare for college. My desk was a shiny, polished table with fancy carved legs, that I had bought from Graff's.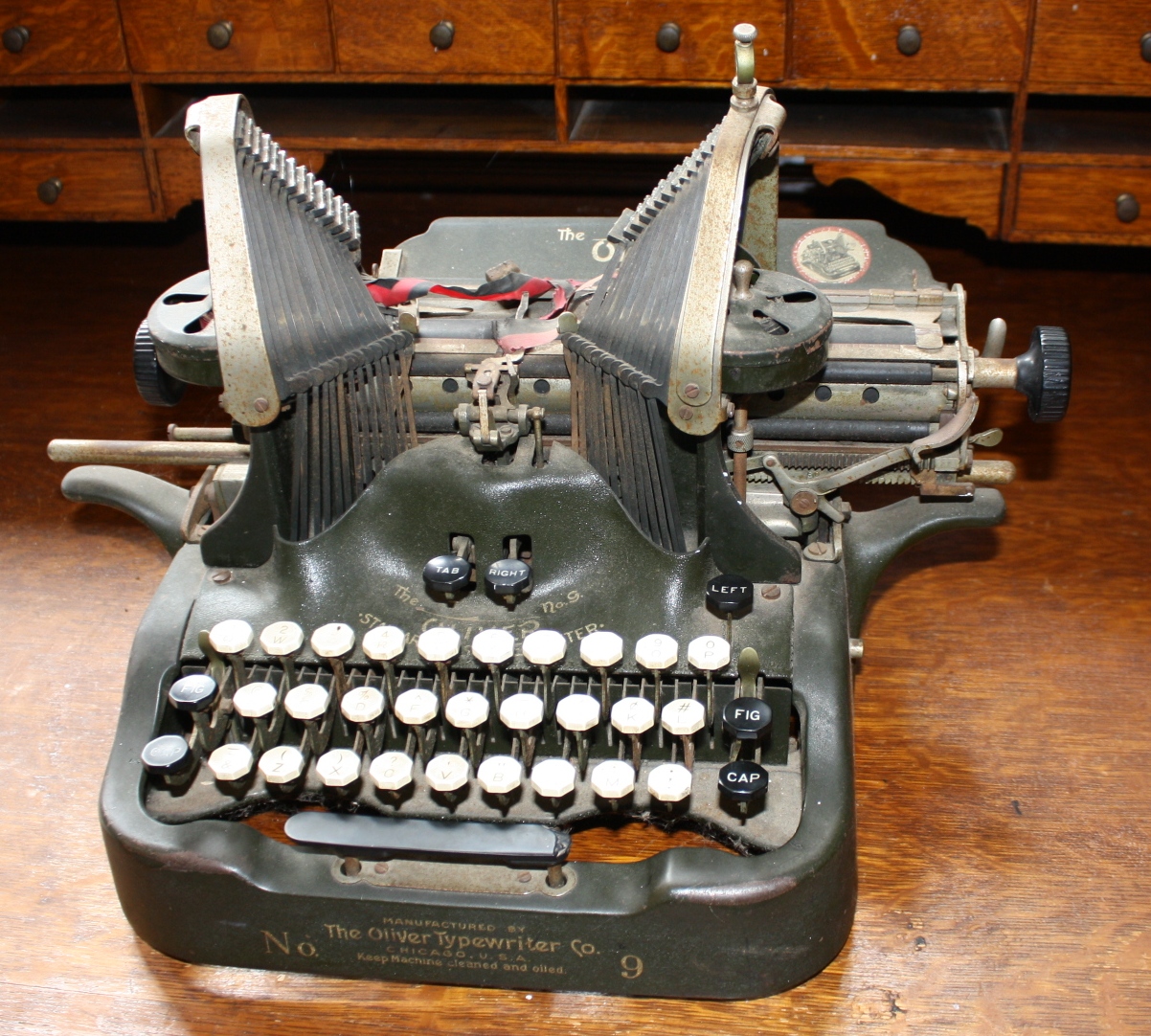 The following incident came as natural as breathing. A business machine salesman came into the store. The cut of his suit, the wave of his hair, the shine of his shoes, the smell of his after-shave lotion, the tone of his voice and the twinkle in his eye gave me to know that this man was a gentleman. Mr. Graff was out, and since I was the one who ran all of his office equipment, which consisted of an antiquated Oliver typewriter, and a hand-crank adding machine, logically I was the one to talk to him. We sat in Mr. Graff's office, which was two chairs by a desk in the shoe room.
The conversation got around to my brilliant future in Civil Service, globe-trotting for Uncle Sam. The handsome salesman seemed interested, throwing out lead questions to let me know that we were kindred spirits. I had no romantic illusions toward him. He was simply part of summer, like new mown hay, or the magazine pictures on my bedroom wall.
I suddenly remembered there was a catch in my typewriter that needed fixing. I asked him if he could do it, and he said he could. "I'll finish my business calls, and be back to pick you up at closing time," he said. Closing time came at dusk, and he was waiting in front as I came out the door.
At home, suppertime was at dusk. For some reason, regardless of the season, the family could never eat supper in daylight. As I came in the door with my friend, there sat the family around the big table in the living room, eating their bread, milk, and fruit. Although the table cloth was fresh and white, suddenly the room, the table and the family looked so— so— —my conscience smarted to even dare think it—so back-woodsy.
Papa always took too lively an interest in anyone we brought home, and heaped them with questions. I hurried the salesman past him as quickly as possible, with only a brief introduction, explaining that he had come to fix my typewriter. I ushered him into the kitchen and up the narrow stairs to my room.
Oh dear! The room that had seemed so charming this morning, now suddenly diminished in my eyes, and looked hicky. The man sat down to my beautiful table to look at Oscar. Oscar was the typewriter. He ran the carriage back and forth, flipped a few levers and said the machine was now in perfect order. He was too kind to say there was nothing wrong with it.
101101 "It just needed a little tuning up," he said.
Just as he leaned back in his chair to visit, Wayne came in and sat on my bed, making a nest in the sagging mattress that I had patted out so carefully. I could tell by his sunburned grin, that showed his front teeth that were too big for his face, that he was settled down to stay. No way could I have a heart-to-heart talk with this magnificent man with this little pest around, so there was nothing left to do but thank him for coming, and lead him back downstairs.
Graciously he said goodnight to the family. Then came the explosion. "It is disgraceful, sinful, and immoral to take a strange man to your bedroom," Papa shouted, his face a livid red.
"There is nothing wrong with taking a repairman to fix my typewriter," I hotly defended.
"I want it understood that when your typewriter needs fixing, you will do it downstairs on this table."
"You know I can't lug that heavy thing down the stairs," I protested.
"You've done it plenty of times," he reminded me.
"But the family was eating supper."
"That doesn't make any difference. He could sit on the lounge and wait until we cleared a place."
Oh sure, sure. I could see it all—what with Papa bombarding him about his morals and religion.
"Only a cheap, loose woman would take a man to her bedroom," he stormed.
"Papa!" I burst into tears.
"This is what Isaiah meant when he talked about the daughters of Zion," he continued, and I knew exactly what he was going to quote.
I ran to my room and plopped onto my face, crying a puddle of tears on Grandmother's crazy-patch quilt. How could a family be so unimaginative and lacking in understanding! Not one of them knew the least thing about how a girl felt.
Softly, Mama came into my room and put her arms around me. "You'd better come and get some supper, Patsy," she said.
"I don't want any," I blubbered.
"Don't feel so bad," she coaxed. "Your father is right. There are so many things that will look differently to you later on. Come on down and be with the family."
I began to feel that Mama did understand. I knew I had to face the family, so I went down with her.
Penitently, Papa said, "I'm sorry I was so harsh." Tears stood in his eyes. "It is because we love you, and we know you are too innocent," he explained.
The next day, when the salesman returned to talk to Mr. Graff, I got so busy with customers that I didn't have to face him.
102102 A certain customer, who always bought laundry soap, really turned my generator on when he entered the store. Even if I was fitting boots on the Prince of Wales, I think I would have left him in the shoe room if Winferd Gubler appeared. But about all the response I ever got from Winferd was his money when he paid for the soap. The rest of the clerks knew I had a crush on him, so they left him for me to wait on.
Winferd managed the swimming pool at the LaVerkin Hot Springs. The soap was to launder the towels and swim suits. I figured if he ever dated a girl, she would have to be a princess, so the most I could hope for was his smile as I bagged up his Fels-Naptha and Crystal White soap.
My dating, for most of the summer, was "gang" dating, which took us often to the swimming pool. I couldn't swim, but usually sat on the steps dangling my feet in the water. Sometimes, I sat on a bench, and if Winferd wasn't busy, he sat and visited with me.
One evening, just before I left for college, he said, "Alice, you're too nice a girl to be running around with this kind of company. You're cheapening yourself, so that the right kind of fellow wouldn't want to date you."
Stunned, I looked at him. He was the one I'd rather date than anyone in the world, but he never condescended to ask me. The kids in the gang always came for me. There was nothing wrong with them, except they had a bottle once in awhile. But they knew better than to offer it to me.
"How kind of you, Mr. Alligator," I retorted.
"Alice, I mean it," he said earnestly. "Don't sell yourself short."
I could see that he did mean it, and somehow I wasn't angry with him. But now, summer was over, and the gang split up. I never saw them again.
Ah College! The Grand Old BAC! Kate was the Fairy Godmother who whisked me there. For the first two weeks, we stayed with Aunt Evadna and Uncle John Hopkins. I planned to become a fine School Teacher, and words of praise would dribble back to Mama and Papa about me, like they did about Kate. But Uncle John changed that.
"Alice, don't register for normal training," he said. "There are too many old-maid school teachers already. You may not even be able to get a contract. And even if you do, you'll spend your life teaching your school mates' little kids. That's no way to catch a husband. Go into business where you'll be working with adults."
He made sense, so I changed my course on registration day. The day before, Kate took me to Henry Berkstrom's exclusive shop, where she bought me an entire wardrobe of beautiful, beautiful dresses. The fabrics were rich and the tailoring superb. Transformed, I was as sharp looking as any co-ed on campus. I blossomed under the touch of her magic wand.
One thing was lacking. I was not transformed into a divine dancer. I was something less than Cinderella at the registration dance. But the Prince was there, in person of Lyle Thomas, the best looking, curly-headed football player at the BAC. As I entered, clipping along in my smart, patent leather slippers, elegant dress, and soft windblown hairdo, he saw me. With the first strains of music, he grandly glided, swirling and 103103 bowing, the full length of the mirror-bright floor, swooping me off my feet. Literally off my feet! Stark terror gripped me, and the room spun. When Lyle almost stumbled with the frozen icicle (me) in his arms, he hastily returned me to my seat. He never looked at me again. The miracle of the incident is that I didn't run home crying. I stayed and watched all evening. Self-consciousness turned to indignation. I resolved to learm to dance.
For the next two weeks. Cedar City lay shivering under wet, black clouds. New clothes, the college campus, school activities—nothing, could stay the longing for home that built up inside of me. All I could think of was how nice and sunny it must be at home. I developed a toothache and needed to see old Doc Gibson. That was reason enough to go home.
Saturday morning, I walked down Cedar Main, with my little suitcase. I couldn't find a soul from home. At Petty Motors I inquired, "Do you happen to have a car going to Hurricane?"
"Can you drive?" Charlie Petty asked.
"Oh yes," I answered. I was homesick enough to drive anything going my way.
"I've just sold a car to Chester1 and Albert1, and they don't drive. Can you chauffeur them?"
"I sure can," I replied.
Chester and Albert were timid bachelors from Rockville.
Looking at the shiny cars, I asked, "Which one is yours?"
"Ours is out back," Chester answered, and I followed him into the garage.
A mechanic was under the hood. Slamming it down as we approached, he said, "Your little jewel is ready for the road."
At my startled look, Albert said, "We got it for twenty-five dollars. We ain't goin' to drive anywhere only around in the field."
The car was a faded blue. The interior resembled a mouse's nest with cotton oozing from splits in the upholstery. I was thankful the mechanic backed it out of the garage, because I'd never driven in reverse.
"Are you ready?" I asked.
"Yep," Chester replied, getting into the front seat.
I slid under the steering wheel and Albert got in the back. I pushed the starter button, the car coughed and puffed a cloud of black smoke, I put it in gear, and we chugged out of town. Every time I gave it the gas, the car shimmied, so I eased it down to a crawl. It was better for me, for I still wasn't used to steering.
Except for the rumble of the motor, we traveled in silence. I looked at Chester. He had gone rigid, with his back stiffened against the seat, his feet pushing against the floorboard, and his eyes glued to the road. When I turned to see how Albert was, he made a startled, choking sound, and sat up tall, to watch the road while I looked at him. I couldn't see why they were so scared. There was no speedometer, but we couldn't possibly 104104 have been doing twenty-five miles per hour. If we had gone faster, the car would have been shaken to pieces.
Well, if they wanted to go into a coma, that was up to them, but this was my first time driving on the open road, and I was going to enjoy it. My tooth didn't ache anymore because I was going home. Happily I hummed, "Mid pleasures and palaces," and the little car jerked and twitched over the Black Ridge, out of the clouds, and down into the sunshine of our little corner of the earth. I knew Albert and Chester were still breathing, for occasionally I heard one or the other gasp.
A new road was under construction between Toquerville and LaVerkin and I almost missed the right-angle turn. When my eye caught the detour, I made it so sudden and sharp that it took the car a few feet to get back on all fours. I had planned on driving clear home, but at the take-off to Rockville, Chester said, "You'd better stop here."
"Stop?" I asked.
"Yes. We don't want to go no further. You get out and we'll take the car home."
Well! Talk about appreciation, after all I'd brought them through. I was still four miles from home!
Mr. Graff came along and stopped just as Albert set my suitcase by the side of the road. For the first time, those old bachelors came alive. I had thought they were dead to any feeling, but with me out of their car they radiated. Enthusiastically they thanked me, over and over, for bringing them this far. Mr. Graff whisked me off for home. As I looked back, Albert and Chester were waving goodbye.
Monday morning, Ether Wood brought me back to school. Ether freighted for Mr. Graff, and waited on all of the college students from Hurricane. He transported them, and brought packages from their mothers, cheerfully and without pay. (He filled Papa's coa1 bin without pay, and always checked to see if there was bottled fruit to be sent to us.)
Our apartment in the Will Simpkins home was ready, and we moved in with our cousins Lula and LaVerna Heaton. Their brother Freddie lived with Aunt Kate and Uncle Will Palmer. Freddie and his friend, Lovell, used to visit us. Since we were all duds at dancing, we set up a class in our living room. Day after day, we danced to the music of Lula's phonograph, until we gained confidence enough to tackle the school dances.
"It's turning that gets me out of step," Freddie confessed. "The easiest way is to bump into someone at each corner of the room, then turn my partner while I'm already out of step."
One night at a school social, I was dancing with Lovell. The floor was slick, and he slipped. Afraid we'd both go down, I let go of him, and he landed on his back. I felt so terribly sorry, because I knew exactly how he felt.
Social prestige on campus came with membership in a sorority or fraternity. Initiation into these clubs was one of the highlights to a "freshie". Initiations ranged from the dangerous to the ridiculous. The Nu Omega Rho Sorority made a bid for me. For the three weeks of my initiation, I carried a brick with "goat" written on it. The brick was heavy, but I was never to lay it down. Each day at school, one of my "superiors" 105105 made a goat out of me. One day I had to wear my graduation dress to school, along with a pair of knee-high hiking boots, and an alarm clock dangling around my neck. The alarm went off during English class, and Mr. Hayward said, "Alice, you may leave the room." So with rhinestones flashing, pink georgette fluttering and heavy boots clopping, I made my "inconspicious" exit. Always, we had to do the mortifying thing requested of us, for we were spied upon by our "superiors".
All of the Nu Omega Rho "goats" had to plead poverty, and beg their way into the movie. We were humiliated and ridiculed by the manager, but finally admitted. (Our tickets had previously been paid for.) Lorna Lowe and I had to order a meal at Lunt's Cafe, then slip out without paying. We were grabbed, and sent to the kitchen to do dishes. We knew this was rigged, because they had saved up mountains of dirty dishes. We washed all afternoon.
After three weeks of embarrassing, humiliating experiences, we were taken to our final court at midnight, blindfolded, and led into a dark room. We were pushed from upper-story windows, burned with red hot pokers and fed gritty, raw oysters. All of this was phony, except the oysters. The power of suggestion was supposed to make us feel we were falling when we were caught in a net, and ice was supposed to feel red-hot. It was a disappointment, because things seemed like what they really were.
But I became a sworn-in Nu Omega Rho, and was given a red silk handkerchief, with the insigne in the corner. This was my first (and last) step up the social ladder. I was too blithe a spirit to be a good Nu Omega Rho. Sophistication bored me.
To gain prestige, the Omegas made a grand splash for Mrs. Jack London, when she came to town. They fixed up the college social hall, renting an upholstered set from Hunter Hardware, along with a crystal punch bowl and other dishes, a polished table and lace cover. They bought "frappe", an exciting new frozen dessert, and cakes. Mrs. London graciously spent an hour with us. The party cost each club member $5.00 apiece, at a time when bread was 5¢ a loaf! Mrs. London never did get her husband to dedicate a book to us, and even after the financial drain, which hurt we scarcely made the news.
The college kept an honor roll posted in the front entrance of Old Main. I was surprised when I saw my name next to the top. That challenged me. Why not get it on the very top? I dug in and made it, but keeping it there was something else. I kept my name on the honor roll all year, but the top spot was shared.
My one diversion from the heavy courses I took, was an art class from Bastow. To help pay expenses, I worked in the combined Creamery and Book Store a couple of hours each afternoon, under Hazen Cooley. My homesickness had vanished.
When we went home for Thanksgiving, I slept with LaPriel. Thanksgiving morning, LaPriel awoke with the mumps!
Back at school, I enrolled in a dancing class under Ballentyne. Joyously, I looked forward to the Christinas dance at home. I had a strong premonition that Winferd Gubler would really see me for the first time. Of all the guys on the college campus, there was no one to compare with Winferd!
106106 Christmas morning, I awoke with the mumps! Fat and ugly. I was too sick to join the family downstairs, and too sick to care. Late that night Edith came home giggling. She had been out with that funny Winferd Gubler. Funny? There was nothing funny about it to me. It was tragic! I would have given the world to be with him. Now, I was really sick. Sick with total frustration!
I spent the entire holidays in bed, barely getting over the mumps in time to return to school. I had lost fifteen pounds.
At quarterly conference held in December, the St. George Stake was divided, and the Zion Park Stake was organized, with Claude Hirschi as Stake President, and James Judd and Russell Swenson as counselors.
Footnotes
Not their real names.
Online Publication Notes
The two poems titled "Opportunity" that Alice quotes in her original typewritten book are slightly different than they appear in The Little Book of American Poets on pages 239 through 241.

Alice's original manuscript moves a few stanzas of the second poem around. And a few words and punctuation choices differ as well. Alice also attributes the second poem to Robert B. Malone instead of the correct Walter Malone. It could be that her source for both poems was different.

Perhaps Alice compiled the quotes in her book from her original notes from 1929. No matter what the reason, this note is here to alert readers that the poems have been adapted in this online presentation to match them as they appear in the book The Little Book of American Poets (a version of which was very likely Alice's original source).

—Aaron Gifford, 25 Jun. 2011

The Marcel Wave hair style:
From the Old Testament, Isaiah chapter 3 verses 17 and 24

17 Therefore the Lord will smite with a scab the crown of the head of the daughters of Zion, and the Lord will discover their secret parts.

24And it shall come to pass, that instead of sweet smell there shall be stink; and instead of a girdle a rent; and instead of well set hair baldness; and instead of a stomacher a girding of sackcloth; and burning instead of beauty.